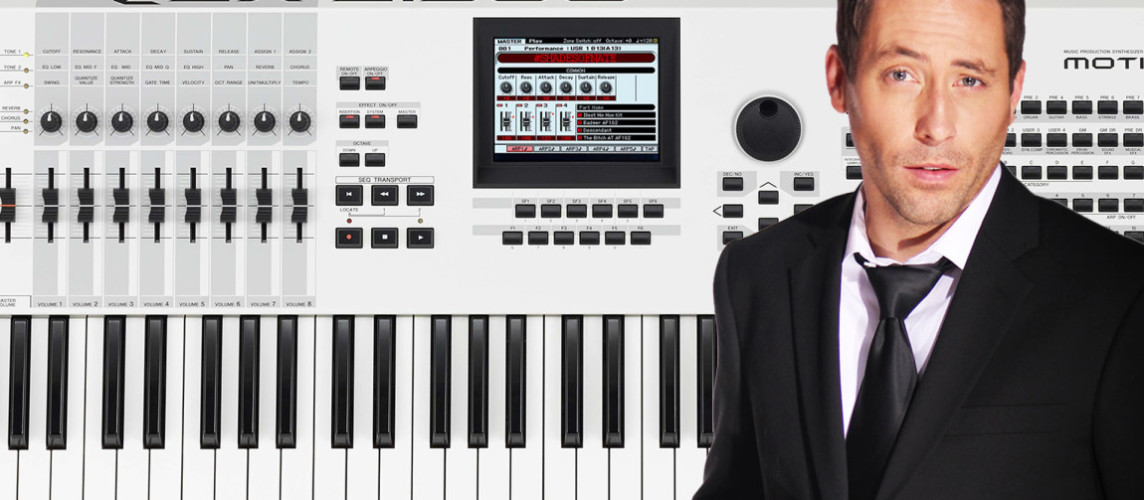 Biography:
In addition to three popular contemporary urban jazz recordings – including Rush, the number #4 album on the 2011 Smoothjazz.com Year End Top 50 chart – Nate Harasim brings to his new relationship with Woodward Avenue Records a dynamic history as one of the genre's top producers.
The composer, keyboardist and multi-instrumentalist earned a Grammy nomination for his work on Dave Koz's Billboard #1 Jazz Album Hello Tomorrow and a 2014 Soul Train nod for Vandell Andrew's #1 hit "Let's Ride." He scored a #1 for Steve Oliver ("Fun in the Sun") as one of 14 Top 20 tunes and has also helmed sessions for Darren Rahn, Steve Oliver, Lin Rountree, Julian Vaughn and Vandell Andrew, among others. A tireless entertainer Harasim's hundreds of stage appearances include performing at President Obama's Inaugural Ball with best pal Rahn and playing twice at the Dubai International Jazz Festival.
Considering the wide expanse of genres and independent artists he works with as owner of Harasim Soundesign – classical, hip-hop, contemporary jazz, house, R&B and beyond – it's hardly surprising that the Michigan based performer offers a wildly eclectic musical ride with a freewheeling palette of musical colors on his explosive label debut #ShadesofNate. When one of Harasim's clients, saxophonist Phil Denny, had asked Sheila E. about the "shtick" that made him unique, the legendary singer/percussionist said, "His shtick is crazy."
That "crazy" works beautifully on the 12 tracks and three remixes of the new collection, taking us from the in the pocket keyboard/sax funk of "#HarmonyPark" (featuring Dave Koz, Nils and the last session ever by the late great drummer Ricky Lawson) to the hip-hop/rap cool of "#WorkIt" (featuring local Michigan rap sensation K-Squeeze), a fresh, hypnotic and haunting twist on Phil Collins' "#In The Air Tonight" (sung gorgeously by labelmate Melina), an energetic romp through Beethoven's "#Moonlight Sonata" and the brassy, discofied "LuvIt" featuring saxman Elan Trotman. #ShadesofNate wraps with a bluesy old school soul-jazz jam "#ElevatorFunk," featuring another exciting saxophonist, Dr. Keith Newton.
"Many of my production clients come to me wanting to score a radio hit, and think the way to do that is to sound like other hit artists," says Harasim. "I tell them no, you've got to be doing your own thing, figure out your unique style. I'm grateful for the success I've had with my previous solo albums, but I'm experiencing complete creative freedom for the first time with Mark Nordman and Woodward Avenue. He's been following my career for a long time, and knows that at any given time, I'm working with artists in seven different genres that I love in my private studio. He encouraged me on #ShadesofNate to do whatever I wanted, to be myself – and for me, that meant putting all those genres on the album in a way that made sense.
"I had a vision of the ultimate playlist," he adds, "and while it's very diverse, I brought everything into a cool flow by following a pentatonic scale throughout so that they flow easily from one key to the next. It was wonderful to be able to explore so many different types of music and rise to the challenge of making so many different elements and styles work seamlessly."
Harasim's sense of adventure extends beyond the studio and concert stage. A major car and motorcycle enthusiast, he loves buying a junked motorcycle and rebuilding and repainting from the ground up. He currently rides a Harley VRod, on the only liquid-cooled Harley ever built. A sports car nut, he's own Trans Ams, Mustangs, BMWs and Jaguars.
Many who know Harasim only from his extensive music career may not be aware of his military experience. Years before he was working his studio magic for himself and countless others, he joined the Navy in Special Operations, aka Special Forces Combat Search and Rescue. He jumped out of helicopters to save and extract fellow servicemen and women and also gave support to civilians dealing with natural disasters and other Special Ops teams. He opted to join the Navy after finding himself bored studying music at the University of Michigan – but came full circle at the end of his Special Ops time when he transferred to the Naval School of Music.
Growing up in Davison, Michigan (a few hours north of Detroit), Harasim studied classical piano for 10 years at the Flint Institute of Music (FIM), then switched to jazz theory and joined the jazz band there. Setting the stage for his future emergence as a contemporary jazz artist and producer, he started his first band at 13 with fellow FIM students and opened for Wayman Tisdale, Norman Brown, Pamela Williams and Tom Braxton before he was 15. The band was offered a contract with Warner Bros. but their parents turned it down.
At 22, Harasim signed an exclusive Yamaha endorsement deal as an artist and producer for all Yamaha and Steinberg related products – a rare achievement because Yamaha only gives out one or two every few years. A multi-instrumentalist who sings and also plays drums, percussion, alto sax and guitar, he made his solo recording debut in 2007 with Next In Line and followed that with Love's Taken Over in 2008.
Despite his many successes, Harasim's frustrations with an industry that often demands sameness and conformity rather than full-blown individual creative expression led him to step away from music for a few years. Serious about switching careers, he had begun training in a new field when Dave Koz called him and urged him to do one more album. Koz's encouragement, combined with that of Darren Rahn and later Mark Nordman, inspired Harasim to get back in the groove – and now, with his production business flourishing and the release of #ShadesofNate, he couldn't be happier. "It's the freedom to be who I wanted to be as an artist that sealed the deal," he says, "and I've even started working on my next project."